Grilled Chicken with Watermelon Salsa and Quinoa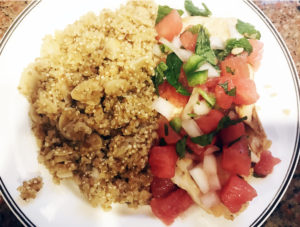 Ingredients:
1/2 cup sliced almonds
1 cup quinoa
2 cups vegetable broth
Bay leaf
Cinnamon
1/2 Jalapeño chopped no seeds
1 pound watermelon chunks
Vidalia onion
2 limes
1.75 package of mint finely chopped
Carrington Farms coconut oil
1 pound of chicken breasts
In a medium pot, toast sliced almonds over medium heat until golden being careful not to burn.
Add 1 cup of quinoa until toasted.
Add 2 cups of vegetable broth, bay leaf and cinnamon to taste. Bring to a boil, covered, then reduce the heat to simmer for about 20 minutes or until liquid evaporates.
Remove from heat and let it sit an additional 5 minutes. Fluff and enjoy.
While quinoa is cooking, cut lime in half. In a large pan, add a drizzle of Carrington Farms coconut oil and add chicken breasts. Squeeze lime on top of breasts, cook on medium heat until halfway cooked through. Flip breasts over and squeeze rest of lime on top. Cook until chicken is cooked through.
Add watermelon chunks to large bowl, add 1/4 vidalia onions, the juice of 1 lime, finely chopped mint, jalapeño and drizzle of carrington farms coconut oil.